I had the pleasure of attending the Olde City, New Blood Conference this past weekend. It was a conference geared specifically toward authors and readers of paranormal romance and urban fantasy, and it was, in a word, awesome. I had a blast at the charity book signing, and met some amazing authors, bloggers, and readers.
The one drawback to being a published author is that I don't have as much time to read as I once used to. I miss constantly having a book at my disposal. But every once in awhile I take the time to indulge myself in my favorite pastime. So this weekend I picked up quite a few reads of my own. Here's what's up next in my TBR pile:
Caridad
Pineiro writes amazing paranormal romance with unique world-setting. I loved her paranormal novella, Aztec Gold, and have been dying to get my claws into her Sin Hunters series. Here's the blurb for the first book, The Lost:
Adam Bruno is no ordinary millionaire. The heir to an ancient race possessing a dark, powerful magic, he can shapeshift and create energy. His gifts make him a living weapon and have forced him to live in seclusion. But now an inhuman force hunts down Adam-just when he finds someone who makes him feel more human than he ever imagined possible . . .

Home from combat in Iraq, Bobbie Carerra wants only peace, yet soon joins Adam in a terrifying battle against paranormal enemies who hide in plain sight. She's drawn to his strength of mind and body; he's attracted to her courage and intoxicating energy. Their scorching passion can either transport them to the heights of ecstasy or-if Adam's powers rage out of control-destroy them. But when an invisible brotherhood tightens its nets and someone Adam trusts betrays him, only a heartrending decision can save them.
I absolutely love Cynthia Eden's work. Her Forever Bound novella series was tons of fun, and now I'm preparing to read Angel in Chains. Check out this amazing cover! What's better than that? Well, here's the blurb:
As a fallen Angel of Death, Azrael is cursed to walk the earth alone in search of redemption. One night, as he wanders the streets of New Orleans, he discovers a woman surrounded by panther shifters.  No longer able to contain the anger simmering within, Az summons his dark powers and attacks, determined to protect this innocent human from certain death.

Only Jade Pierce is no delicate flower.  She's spent years learning to survive and fight the evil forces sent by her ex-lover who refuses to let her go. But after seeing Az in action, she figures she could use a little supernatural help. And so she plans a course of seduction guaranteed to arouse his interest and his angelic passions…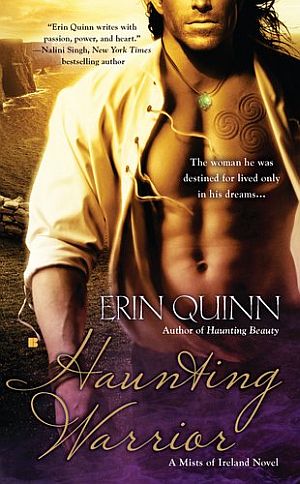 I had the pleasure of sitting next to Erin Quinn at the charity book signing. I have to admit, I've never read any of her books, even though I've seen them throughout the years and always meant to check them out. So this seemed like the perfect opportunity to pick up my very own copy of Haunting Warrior, especially since I was able to score an autograph (yay). Here's the blurb:
When his father vanished after uncovering the secrets of the ancient Book of Fennore, Rory McGrath transformed from an innocent boy into a troubled, cynical man. Leaving Ireland, he shunned his family, his heritage-and the very magic that defined his people for centuries.

Then he began dreaming of an ethereal beauty, who calls him to return home to a destiny that will take him beyond the realm of anything he imagined.

Lured to the castle ruins where his father disappeared, Rory is plunged back in time, and into the body of another man-a man betrothed to the very woman of Rory's dreams. In possession of the secrets of his past, his family, and his identity, her hold on Rory is inescapable. For she is his doom, his salvation-and his destiny.
And for those of you who love YA, I picked up a few of those too!
I've read a lot of great reviews for Lea Nolan's Conjure, and when you see the blurb below, I think you'll agree it's a must read:
Emma Guthrie expects this summer to be like any other in the South Carolina Lowcountry–hot and steamy with plenty of beach time alongside her best friend and secret crush, Cooper Beaumont, and Emma's ever-present twin brother, Jack. But then a mysterious eighteenth-century message in a bottle surfaces, revealing a hidden pirate bounty. Lured by the adventure, the trio discovers the treasure and unwittingly unleashes an ancient Gullah curse that attacks Jack with the wicked flesh-eating Creep and promises to steal Cooper's soul on his approaching sixteenth birthday.

But when a strange girl appears bent on revenge, demon dogs become a threat, and Jack turns into a walking skeleton, Emma has no choice but to learn hoodoo magic to undo the hex, all before summer—and her friends–are lost forever.
And finally,
here's another YA I've heard great things about and been meaning to pick up, Obsidian by Jennifer L. Armentrout:
When we moved to West Virginia right before my senior year, I'd pretty much resigned myself to thick accents, dodgy internet access, and a whole lot of boring…. until I spotted my hot neighbor, with his looming height and eerie green eyes. Things were looking up.

And then he opened his mouth.

Daemon is infuriating. Arrogant. Stab-worthy. We do not get along. At all. But when a stranger attacks me and Daemon literally freezes time with a wave of his hand, well, something…unexpected happens.

The hot alien living next door marks me.

You heard me. Alien. Turns out Daemon and his sister have a galaxy of enemies wanting to steal their abilities, and Daemon's touch has me lit up like the Vegas Strip. The only way I'm getting out of this alive is by sticking close to Daemon until my alien mojo fades.

If I don't kill him first, that is.
Okay, so you all know what I'll be reading for the next month. I'd love to know if you've read and loved any of these books. If not, what are you reading and loving right now?
Rosalie Lario
Author of the Demons of Infernum and the Fallen Warriors Series
Visit Rosalie's Website ¦ Twitter ¦ Facebook ¦ Newsletter Sign-up